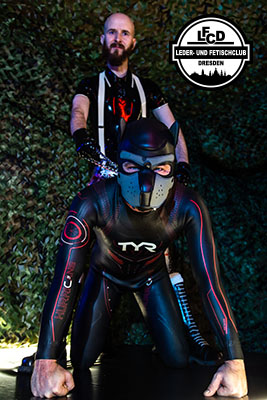 In human pupplay, a person takes the role of a pup or dog. This is often done together with other puppies or with a handler or trainer.
The puppy/dog is often the center of attention and affection. Often, in addition to a dog mask and collar, he wears paws and a dogtail, eats from a bowl or has dog toys with him.
There are no predefined rules, how pup play is lived out and just as little there is a desired or even required dress code. Pups are often seen in sportswear, with underwear and harness or even in rubber.
Our puppy meetings are a good place to be among dogs and masters, but also at the All Fetish Night or just matching the dress code of the evening, poops are welcome.

For all those who want to inform themselves first, the website of pupplay.de is recommended.